these nice nip covers were made by
gothfox, of Glitzkrieg Burlesque Bombshells. The triangle shaped things over the leopard print pasties are little cat-ears on barrettes for my kitty costume! You also can't tell that the little non-tasseled black pasties in the center have a light dusting of gloden glitter in the fabric. Also, the red polka dot ones...the darker spots are actually red rhinestones, that doesn't show in the picture well.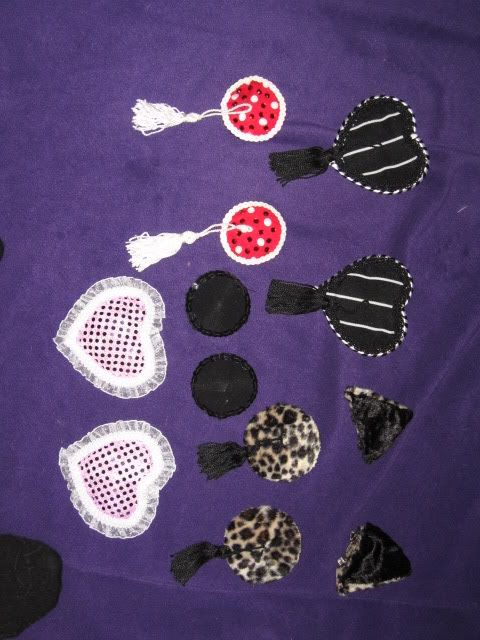 These are my home made ones so far. My skills are improving! Unfortunately, didn't realize that the color on the cardboard from a box would show through on the silver ones. No biggie, I have plenty more of the silver beads, I'll just need another set of tassels. Bah. *is annoyed* J likes the red ones the best - those re my first try at coving the little cones in fabric. Planned ones to make - I'm going to make some purple ones this weekend to go with my sequin gown, and some gold and black ones with feathers to match my elaborate head dress/fans/robe with train showgirl set. Some turquoise ones for my southern belle costume. Also, I have a bunch of crystal rhinestones with the metal settings...I'm contemplating making some to match my real 'aroura borealis' crystal showgirl bikini I coaxed from a retiring ex-showgirl eons ago (and had take apart and rewire together to fit me...she had a large C cup).

A few more months of practice and they will come out better.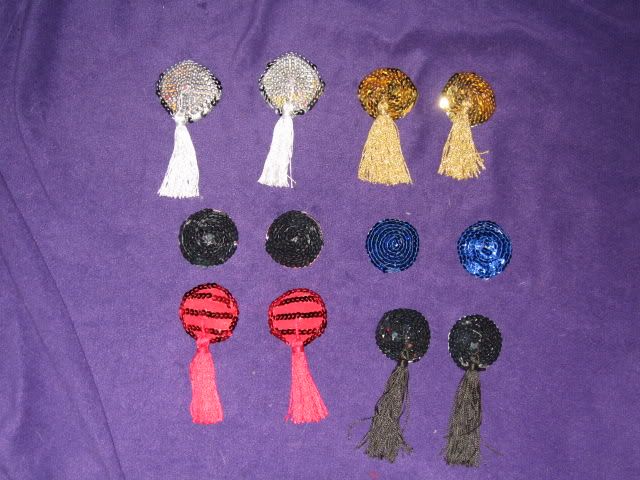 I have more on the way. pretty pearly ones, a pink, iridescent, tasseled set of little HANDS and two g-string/pastie sets...one pink maribou that I will use along with a half dozen pink ostrich feathers, a vintage 30s corset, brocade tiny half top with little off the shoulder sleeves and ballet shoes I already have for a costume, and one in back with stars on them to add to this HUGE HUGE HUGE sheer robe with a sorcerer hat for a wizard costume.

I also bought a DVD of 1900s VAUDEVILLE BURLESQUE Comedy Films!

As soon as I have bills paid, I'll be getting more DVDs for reference and to show other girls for ideas and to learn a more authentic style.